Ganesh Chaturthi:Celebrating the arrival of Vighnaharta
Ganesh Chaturthi/Ganesh Mahotsav, a festival observed by the Hindus, marks the birth of Lord Ganesha. Lord Ganesha is a popular deity worshipped in India and so is the festival Ganesh Chaturthi. Ganesh Chaturthi is celebrated across the country but Maharashtra witnesses major fanfare and celebration. As Lord Ganesha represents to be the Lord of new beginnings the worshippers are highly devoted towards the festivities of Ganesh Chaturthi as they believe that the coming of Lord Ganesha conquers all difficulties and brings peace to the families.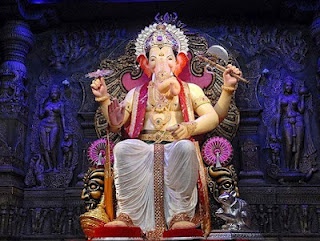 Image Source: Pinterest
It is a ten-day celebration and the reason for this specific duration relates to an interesting anecdote from our mythology. According to scripture, Lord Ganesha has written the Mahabharata (The Holy Scripture of the Hindus) as Sage Vyasa had narrated to him. But during the process, the writing material got depleted. In order to continue writing, Lord Ganesha broke his tusk and used it as writing material. The process went on for 10 days and this is the main reason why the festival is observed for 10 days.
Another most important ritual that follows is the Visarjan, Visarjan actually means immersion of Lord Ganesha's idols.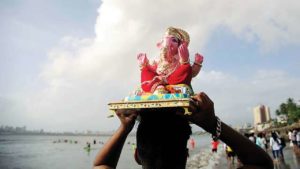 Image Source: DNA India
Due to the current onslaught of the pandemic, for the first time in 86 years, the year 2020 saw a very subdued scale of festivities. With Mumbai and the entire state of Maharashtra being the worst affected, Ganesh Chaturthi was hardly celebrated with all the pomp and show.
However, with this year, the restrictions are a bit relaxed and the government has instructed that the rituals be carried out by adhering to proper guidelines and protocols.
On this note, we wish you all a very Happy Ganesh Chaturthi.
Hoping for New Beginnings and blessings as this festival unfolds.
Take care, stay safe.
-Ester Pariyar