5 best offbeat locations to travel Post-pandemic near North Bengal
If you are annoyed at being at home and stuck to your day-to-day post-pandemic life and just want to get lost in the lap of nature and its beauty then this is exactly what you need to read right now!
Travel has taken a back seat since 2020, when the waves of the virus hit us, making it impossible to get out of our houses. But now it's time to pack your bags and explore the beauty around you. North Bengal, a place surrounded by beauty whether it is the tea gardens, the rivers or mountains, and snow. But most of us don't wish to go to a place full of other tourists or anywhere crowded but would rather want to explore the offbeat location.
So here are the 5 best offbeat locations to visit on your weekends near North Bengal!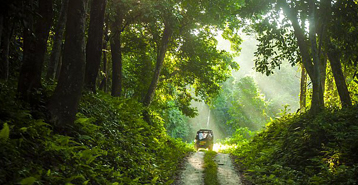 Image Source: Chilapata homestay.com
1. Chilapata– the heart of Buxa: Chilapata is 145km from Siliguri, located near Jaldapara national park in Alipurduar district and an important part of Dooars and Buxa forests. This place is basically for those who want to spend their holidays in the woods to comfort their heart and for those who love the uneven ground, rough tree barks, sound of crickets, and the darkness after sundown if you are brave enough to enjoy the lights of fireflies in the dark. You can also go on an elephant safari. This forest used to be home to large Rhinoceros populations, we believe there is still a group of them there. So don't think twice if the magical woods attracts you more than anything else then go for it.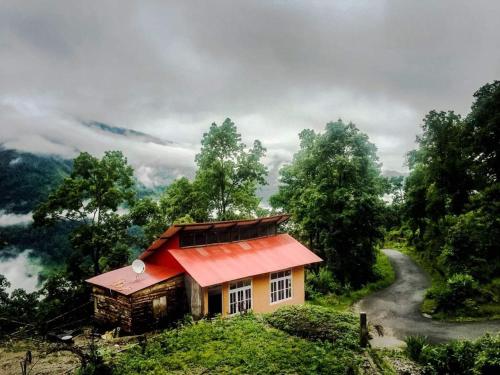 Image Source: booking.com
2. Sitong- the orange valley of Darjeeling: A perfect destination for those who love to walk and explore the twists and turns of a small unknown village of mountain sites. Sitong is famous for its orange trees, in winters the whole village seems orange. You will be amazed by the beauty of Sitong and the humbleness of the local peoples and the small homestays that won't let you feel homesick. But this place also has a lot of things to offer besides its oranges, a lot of different kinds of birds and butterflies, monastery, Sitong church and of course the local food. You can also go trekking or just walk through the rough turns. Sitong is basically a small village in Darjeeling but connecting with the plains near between Kalijhora and Kurseong. It takes only 1hr 20 minutes from Siliguri as it is 53 km away from New Jalpaiguri.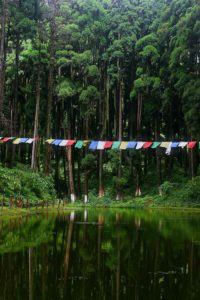 Image Source: tripoto.com
3. Lamahatta- the land of pine: Lamahatta is located in Darjeeling district, a mesmerizing place to visit and spend some quiet time but also to absorb the beauty of giant pine trees and the clear blue sky. This place has a lot of things to offer you. The view of Kanchenjunga, the mighty mountain with white ice on top of it which looks magical and shimmery when the sunlight hits. The Lamahatta eco-park will give you the joy of hiking even if you don't plan for one as its sacred pond is 1 km away from the main park but there's a lot of benches to rest on the way upwards. The local homestays are too good to enjoy the views if you want to spend a night or a whole week. Besides, if you are a person who admires the beauty of wildflowers then you probably should go from mid-October to November. It's only 70 kilometers from Siliguri, so go and visit this mesmerizing place full of greenery.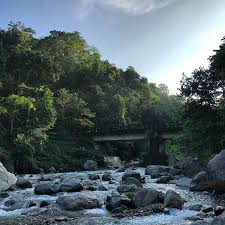 Image Source: gramho.com
4. Shivkhola- a picturesque destination: If you are tired of the concrete jungle and want to spend a weekend or even a day close to nature then it is definitely what you are looking for, a place in the name of Lord Shiva. Shivkhola is a heaven for all camp lovers. This place is not exactly a hill site but also not in the woods, this is a perfect combination of river, woods, and of course mountain. A small village surrounded by tea gardens. It also attracts all bird lovers and especially wildlife photographers. The continuous gulp of the rivers creates another kind of peace. There's also a history hidden for the lord Shiva temple, many locals believe that Lord Shiva created this temple and therefore this made this place more sacred and spiritual.
You should definitely add this place to your bucket list as it is only 30 kilometers from Siliguri.
Ps: the delicious momos in Rongtong on the way to Shivkhola is definitely a bonus point.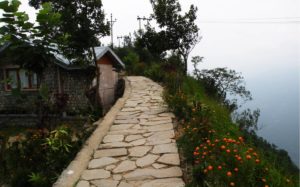 Image Source: northbengaltourism.com
5. Chota Mangwa-If heaven is ever located on earth: an offbeat location can't be more good. We can reach Chota Mangwa via Teesta Bazar and it takes only half an hour from Darjeeling. A small village with amazing and comfortable homestays that will provide you a luxurious experience in Nature. Its surreal beauty and serene ambiance will definitely take your heart and comfort you to spend some more time there. Journey to this small piece of paradise is not a forgettable experience itself. The views of lofty mountains, the chilly wind, lush forest of pine, and the windy roads will give you the best experience of traveling so far. River, tea gardens, view of Kanchenjunga, flowers, Butterflies, birds, orange gardens, and the humble locals makes Chota Mangwa the most promising and beautiful place to travel.
So what are you waiting for? Pack your bags and give your wanderlust soul some happiness of mountains, woods, clouds, and rivers. I can surely say this will be an unforgettable experience for you!
-Ayesha Sarkar