Finally it is the time to experience shorter days and longer nights with the weather growing colder. Also our craving for warm and comfortable meals is on the rise. Okay I get the fact that all you want to do now is just bundle up in your blanket and get your food instantly and JUST HIBERNATE… But still if you feel like surprising yourself and go for some actual homemade food to cater yourself with and try saving up your money rather than pledging your payroll check to Swiggy or Zomato or simply devoting this winter solely on frozen chicken, to help you warm up this winter, here is a compilation of my favorite easy recipes to give you plenty of homespun inspo all season long. While the cold winds blow outside, cozy up to one of these warming dishes to keep the whole family happy and satisfied. No matter what you crave during the colder months, I have a recipe here for you.
1. Crock-pot Chicken Noodle
Crock-pot chicken noodle soup…. Sounds interesting right? Well it's as easy to cook as it sounds. Nothing is more comforting than a bowl of chicken noodle soup. Now let us get straight to the ingredients:
Ingredients:
1 1/2 lb. boneless skinless chicken breasts
1 large onion, chopped
3 carrots, peeled and sliced into coins
A handful of peas
2 stalks celery, sliced
4 tsp. sprigs fresh thyme
4 tsp. sprigs fresh rosemary
3 cloves garlic, minced
1 bay leaf
Kosher salt
Freshly ground black pepper
10 c. low-sodium chicken broth
8 oz. egg noodles
Method:
Now it is time to take a back seat and let your slow cooker take the lead. Put onion, carrots, peas, celery, thyme, rosemary, garlic and bay leaf along with the chicken and dress liberally with salt and pepper. Pour in broth.
Then cover and cook on low for about 6 to 8 hours. Henceforth, remove chicken from slow cooker. Take two forks and shred the chicken. Discard the herbs and bay leaf. Put the chicken back in the cooker and add egg noodles.
Cook on low, covered until al dente, ( 20 – 30 minutes ).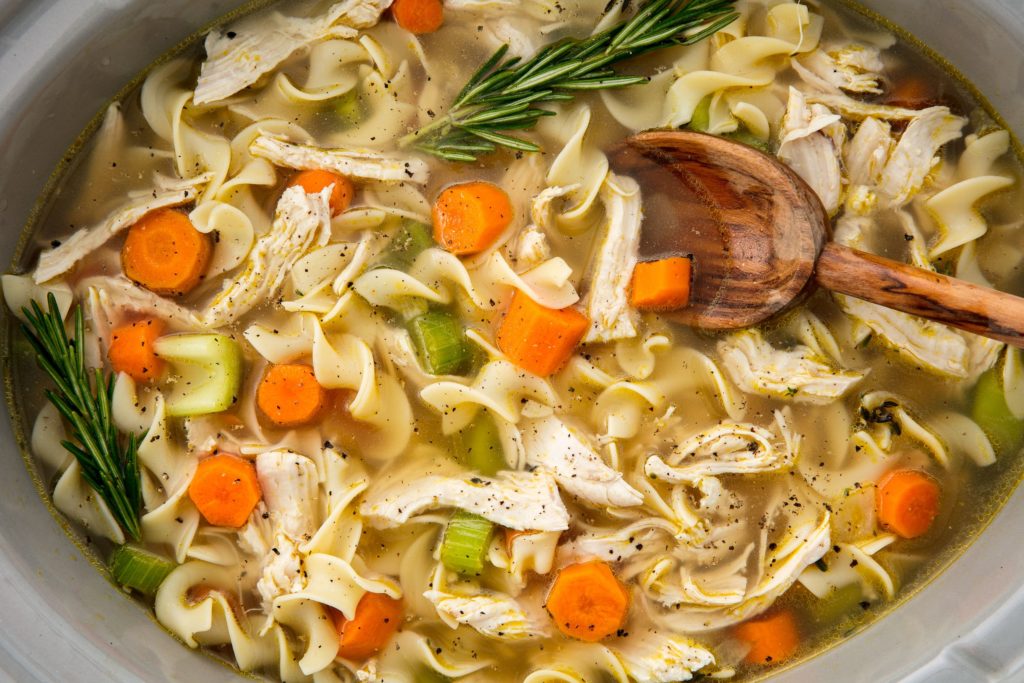 If you feel like adding something more to give it more flavor, I believe it is not just the salt and it needs a drizzle of olive oil and maybe squeeze a lemon to give a zestful flavor. If you are a spice lover, care to add a pinch of crushed red pepper flakes to give the soup some heat.
2. Creamy French Onion Pasta
If you love French onion soup, you will absolutely love this pasta bake. It has all the rich flavors you get in a bowl of steaming French onion soup. But made better with the addition of pasta and a touch more cheese. You simply cannot go wrong. Have a look at the ingredients:
Ingredients:
4 tablespoons butter
2-3 medium yellow onions, thinly sliced
2 teaspoons honey
1 cup dry red wine, such as Cabernet Sauvignon
2 cloves garlic, minced or grated
2 cups cremini or wild mushrooms, sliced
2 tablespoons fresh thyme leaves (or 2 teaspoons dried thyme) ● kosher salt and black pepper
3 cups low sodium chicken broth (use vegetable broth, if vegetarian) ● 1 tablespoon Worcestershire sauce (use soy sauce, if vegetarian) ● 2 leaves bay leaves
1 pound of your favorite short cut pasta
1/4 teaspoon cayenne pepper using more or less to your taste ● 1 1/4 cups heavy cream, whole milk, or canned coconut milk ● 1/3 cup crumbled gorgonzola cheese (optional)
2 cups shredded gruyere cheese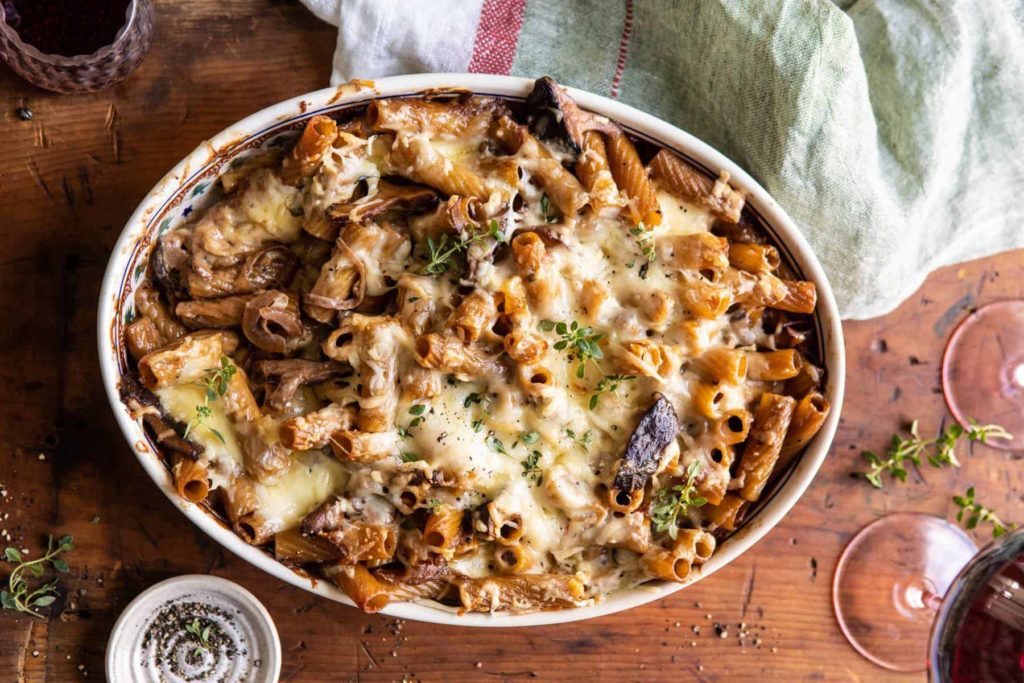 Method:
Preheat the oven to 400 degrees F.
Melt the butter, onions, and honey together in a large pot over medium-high heat. Cook, stirring occasionally until softened, about 5 minutes. At this point, you want to slowly add 1/2 cup of the wine, 1/4 cup at a time, until the wine cooks into the onions. Continue to cook another 8-10 minutes until you've used the 1/2 cup of wine and the onions are deeply caramelized.
Add the garlic, mushrooms, thyme, and season with salt and pepper, cook another 3-4 minutes. Add the remaining 1/2 cup wine, the broth, Worcestershire sauce, bay leaves, and the pasta. Bring the mixture to a boil. Stir frequently until the pasta is al dente and the broth has been absorbed, about 8-10 minutes. Stir in the cayenne, cream, gorgonzola, if using, and 1/2 cup gruyere cheese. Remove from the heat.
If needed, transfer the pasta to a baking dish. Top with the remaining gruyere cheese.
Transfer the baking dish to the oven and bake for 20 minutes or until the cheese has melted and is lightly browned on top. Cool 5 minutes before serving. Serve with fresh thyme.
Bon Appétit.
3. Sausage and Pepper Pizza
Fan of sausage and pepper sandwiches? The popular sandwich is turned into a pizza – this Sausage and Peppers Pizza is topped with Italian sausage, peppers and onions. Then you are also going to love this particular dish. Come let us check it out.
Ingredients:
Sweet Italian Sausage ( Though the recipe calls for ½ lb but you can add as per your preference)
Extra Virgin Olive Oil ( This one is my favorite orelse feel free to use any other oil as you wish)
Red and Yellow Bell Peppers
Onion
Pizza Dough
Pizza Sauce (pro tip: use homemade sauce and thank me later :)) ● Italian Cheese Mix
Oregano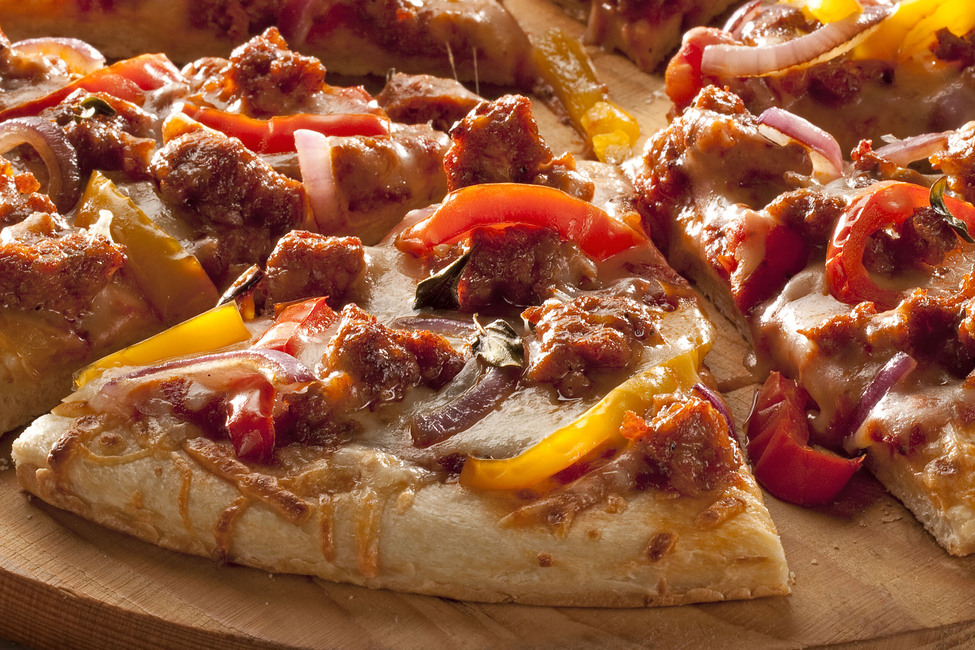 Method:
TOTAL TIME: 40 minutes
Start by cooking your sausage. Boil the sausage to cook it through, and then crisp it up in some olive oil. Then slice the sausage and throw it back in the pan for just a couple more minutes to brown the sausage on all sides.
Then cook your veggies. Take your sliced peppers and onions and cook in a hot skillet with olive oil. Make sure not to cook them too much, as they will continue to cook a bit in the oven.
Assemble your pizza! Spread on the pizza sauce, add most of the cheese, then top with the sausage and peppers. Add the remaining cheese.
Bake the pizza until the crust is browned and the cheese is melted. I like to cook at a high temperature on a pizza stone.
When the pizza comes out of the oven, sprinkle on some oregano. Let it sit for a few minutes before slicing.
4. Coconut Chicken Tikka Masala
This coconut chicken tikka masala recipe is kid-friendly, make-ahead easy, and ready to add some variety to your weeknight meal plan! Any Indian food you will try will have that one thing which leaves us finger-licking. Guess what that might be???…Garam Masala!!
Let us check the recipe out.
Ingredients:
Curry Paste
1 medium yellow onion, diced
1 shallot, halved
6 cloves garlic, minced
2 (1-inch) pieces of fresh ginger, peeled
3 tbsp garam masala
2 tsp ground turmeric
2 tsp kosher salt
1 tsp crushed red pepper
Zest of 1 lemon

Chicken
2 lbs. boneless, skinless chicken breast, cubed
1/2 cup plain Greek yogurt
1 (14 ounce) can full-fat unsweetened coconut milk
1 (6 ounce) can tomato paste
1/4 cup cilantro, chopped
4-6 cups cooked rice, for serving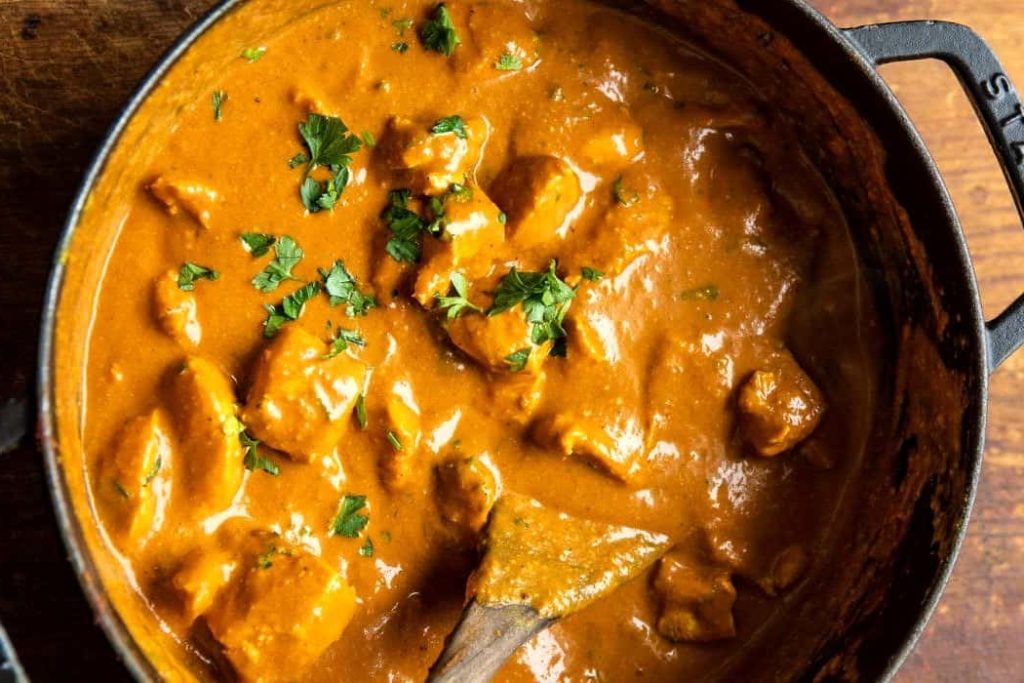 Method:
Make the curry paste: In a blender or a food processor, combine the onion, shallot, garlic, ginger, garam masala, turmeric, salt, red pepper flakes, and lemon zest and pulse until a smooth paste forms, about one minute. 
Make the chicken: In a gallon-sized ziplock bag, combine 2 TBSP of the prepared curry paste, the chicken, and yogurt. Seal the bag and massage the mixture into the chicken to cover completely. Marinate at room temperature for 30 minutes or if you're prepping ahead of time, refrigerate up to overnight. 
Heat a large, high-sided skillet over medium heat. Add 1/4 cup of the curry paste to the pan and cook until fragrant, about 1 minute. Stir in the marinated chicken, coconut milk, and tomato paste. Cover and cook until the chicken is cooked through about 15-20 minutes. Remove the lid and simmer until the sauce is slightly thickened, about 5 minutes. 
Stir in cilantro and serve the chicken over rice with Naan on the side.
Notes:
You can double the curry paste and store it in a mason jar in the fridge for up to 1 month, or in the freezer for up to 4 months. Thaw in the fridge overnight.
5. Layered Chocolate Pudding Dessert with Salted Pecan Crust
You have to agree with me on this that winter is incomplete without a pudding dessert. I mean come on imagine you had your dinner and now you are under your blanket in your cozy space with a bowl of hot molten chocolate pudding. Hahahaa.. Let's not make you just mouthwater, I also have an amazing recipe you wouldn't be disappointed in. Go ahead.
PREP TIME: 25 mins
COOK TIME: 20 mins
TOTAL TIME: 45 mins
Ingredients:
For the Salted Pecan Crust: 
1 1/2 c. All-purpose Flour 
1/2 c. Packed Brown Sugar 
3/4 tsp. Kosher Salt 
1/3 c. Finely Chopped Pecans 
9 tbsp. Cold Unsalted Butter 
For the Cream Cheese Layer: 
12 oz. weight Cream Cheese, Softened
1 1/2 c. Powdered Sugar
12 oz. weight Cool Whip, Divided (1 1/2 Cups For Cream Cheese Layer, Remaining For Cool Whip Layer)
For the Chocolate Pudding Layer:
2 boxes (3.9 Oz. Size) Chocolate Fudge Instant Pudding & Pie Filling
4 c. Cold Whole Milk
For the Cool Whip Layer: 
Remaining Cool Whip From Cream Cheese Layer 
2 oz. weight Shaved Dark Chocolate From A Bar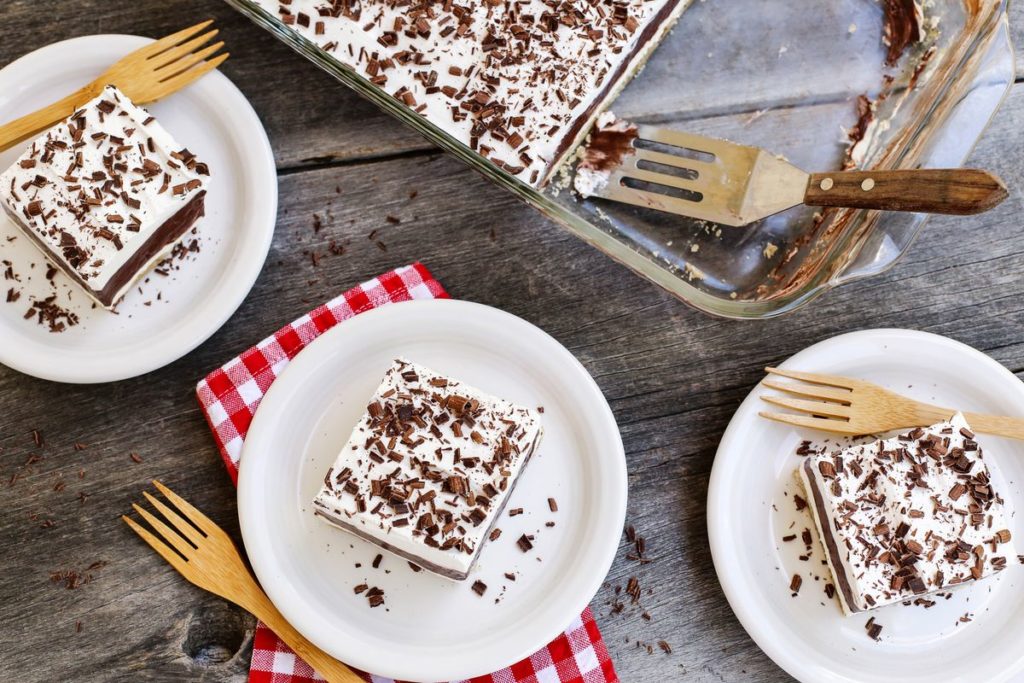 Method:
For the salted pecan crust:
Preheat oven to 325° F.
In a medium bowl, combine flour, brown sugar, salt, and pecans. Cut in butter with a rigid pastry cutter or a fork until crumbly. Press mixture evenly onto bottom of 9 x 13 inch pan. Bake for 18–20 minutes, or until crust is set and slightly browned. It should smell nice and toasty, buttery and nutty. Remove to wire rack to cool completely.
For the Cream Cheese layer:
With a blender, whip cream cheese and powdered sugar until completely smooth. With a rubber spatula, fold in 1-1/2 cups of Cool Whip from the 12-ounce container until combined. Spread mixture onto cooled crust. Refrigerate while preparing the next layer.
For the Chocolate Pudding layer:
In a medium bowl, whisk pudding with milk for 2 minutes. Pudding will become more and more thick as you whisk. Spread pudding evenly over cream cheese layer.
For the Cool Whip layer:
Evenly spread remaining Cool Whip from the 12-ounce container over chocolate pudding layer. Sprinkle with shaved chocolate. ( use a vegetable peeler, running it down the sides of a chocolate bar.) Refrigerate for 4 to 6 hours or overnight before serving.
This dessert can easily be made the day prior to serving. I actually prefer the overnight refrigeration, as it allows the dessert to chill thoroughly and firm up. Always serve this dessert chilled. You are welcome!
Up for a bonus recipe??
I think you deserve one. So, here's my year end gift for you.
6. Mulled Wine ( Spiced Wine )
This traditional Christmas drink, best when served hot or warm, is the warming beverage you will love to cozy up in this winter. Also this particular drink has its history back in the Roman times where they would warm up their wine with spices to keep them warm in the winter cold. Heated and spiced wine has now evolved throughout time to include different medleys of flavoring, including ginger, pepper, cardamom, and even herbs. This classic drink recipe uses red wine, traditional warming spices and brandy to create the perfect holiday drink to serve a crowd (or just yourself, no judgement here!). With no more adieu here is the recipe.
PREP TIME: 5 mins 
TOTAL TIME: 20 mins
Ingredients:
1 (750-ml.) bottle red wine
1 orange, sliced into rounds, plus more for garnish
6 whole cloves
3 cinnamon sticks, plus more for garnish 
3 star anise 
1/4 c. honey 
1/2 c. brandy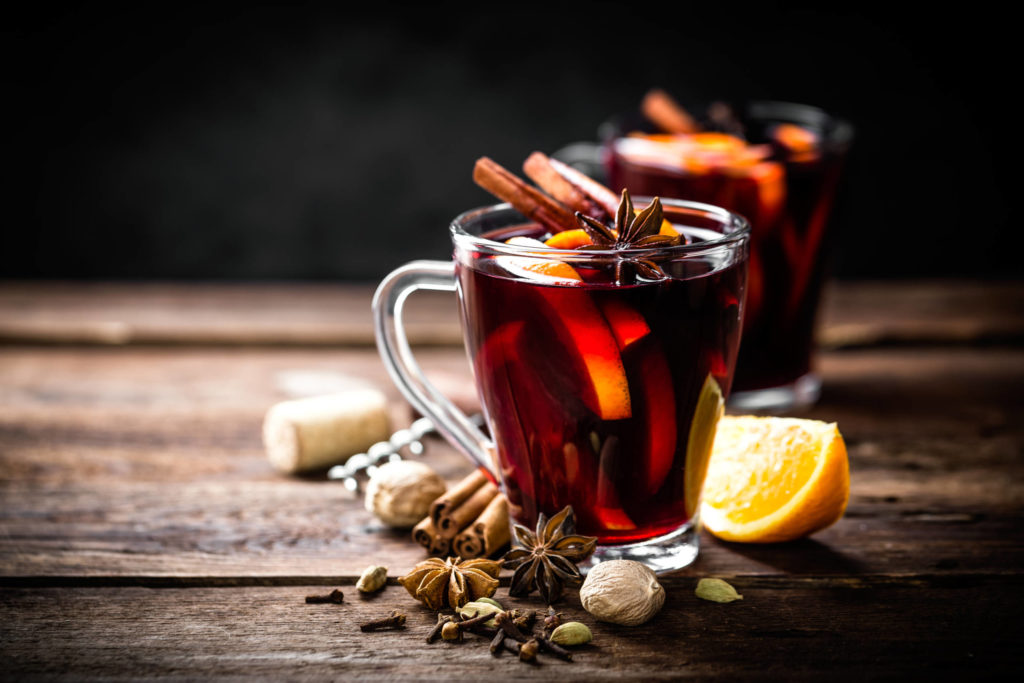 Method:
Step 1
In a medium saucepan over medium heat, combine all ingredients. Bring to a simmer not a boil, then reduce heat to medium-low. Simmer gently over low heat for 10 minutes.
Step 2
Serve warm and garnish with more citrus slices and cinnamon sticks. You are good to go. Enjoy!
Good food, Good life.