Happy Women's Day!
When was the last time you thanked your mom for always being there when you needed her the most? Or your sister who always stood by your side, no matter what, and with whom you share the love-hate bond, where love always empowers hate? Or your Grandma to whom you used to always run to in order to ask for advice? Or your teacher who always guided you towards your goals and left no stone unturned in getting you back on track when you went off the tracks?
Well, this the perfect time for you to manifest how much they mean to you. 8th of March is celebrated as International Women's Day every year since 1911, honoring the achievements of women in various fields. The theme for this year's Women's Day is #EachforEqual, where each one of you can lend a hand in creating a gender equal world.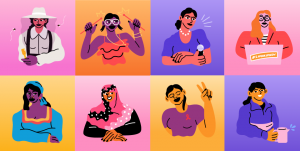 Know a bit about how women's day came to be: https://www.internationalwomensday.com/
When we talk about Women, the first one is none other than our mother. The one who has always handled your tantrums effortlessly; never gave up and the one who always sacrificed for others. She has always been there for you when you needed her; she is the one that you will find during your good as well as your bad days and has also been there with you in those 9 long months, bearing all the pains and hassles, that's how a mother's love is. she comes as a relief to all the pain and sufferings. The dreams which she once had for herself has now swapped with the dreams of her husband and her child. Now she just prays for their dreams to be fulfilled. Today, go up to your mother and ask her, when was the last time she did something that was for herself?
In India women have always been honored with the title of 'Devi'. It is ironical that the same 'Devi' is not allowed to come to this world and is killed before she is born (still in some parts of the nation). Why? Because she is thought to be a burden to the family and is not 'fit' or 'capable' of carrying the generation forward. This Women's Day let us all come together and create a nation that is gender equal and stick together for the #EachforEqual theme. Women are as capable as the men are in almost all sectors and personalities like Michelle Obama, Queen Elizabeth, Hillary Clinton, Oprah Winfrey, Malala Yousufzai, Sanna Marin and many more are living examples of women empowerment.
Women are the pillars of society and mankind. They have struggled to achieve equality in society as well as work space. She is the creator of all of us. This Women's Day let's show our gratitude to each and every woman in your life and make them believe that they deserve this!
This International Women's Day is all about believing in "an equal world for all."
"Don't let anyone tell you you're weak because you're a woman" – Mary Kom
Contributed by:
Rakshanda Shrestha
Read More: 8 Expression, 1 Emotion- LOVE !