Valentine's Day!
Historians opine that the origin of Valentine's Day was in ancient Rome in the pagan fertility festival called Lupercalia, with the celebration dedicated to Faunus, the Roman god of agriculture, and its founder were the brothers Romulus and Remus.
The most common founder of Valentine's Day was Saint Valentine who acted against the dictates of Emperor Claudius II. Valentine was guilty of marrying couples illegally until he was caught and sentenced to death.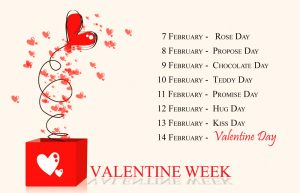 However, February 14 is celebrated as St. Valentine's Day in the best of Christian traditions; according to it the rank of 'commemoration' in the calendar of saints in the Anglican Communion. This day is known as the feast day of Saint Valentine and iconized in the calendar of saints of the Lutheran Church.
This day also finds it's space in the Book of Genesis: 29: 20 with the inscription, 'So Jacob served seven years to get Rachel, but they seemed like only a few days of him because of his love for her'.
The Book of John 3: 18 also follows with the inscription, 'Dear children let us love not with words or speech but with actions and in truth'.
Check out the history of Valentine's day at https://www.britannica.com/topic/Valentines-Day
Finally, the Song of Songs is expansive with the words, 'Let him kiss me with the kisses of his mouth for your love is more delightful than wine'. In the 1300s, it officially became a holiday associated with love and romance.
In 1415 a French medieval duke, Charles sent a valentine to his wife. He wrote, "I am already sick of love, My very gentle Valentine." Later in the 1840s, Valentine Day's cards were mass-produced in the U.S. in this manner it became big business all over the world, except in some.
In fact, the reference to Valentine's Day is found in "The Gift of the Magi and Other Short Stories" by O. Henry, in "Emma" by Jane Austen. It also has reference in "The Odyssey" by Homer, and in "The Penelopiad" by Margaret Atwood.
Valentine's Day is usually celebrated with heart-shaped chocolates and cards with sentimental messages. On this day about 6 million couples get engaged. Latin American countries are known to celebrate this day. In Japan, women honor men with confectionaries and which has a return response on March 14, when men repay the favor on the 'White Day.'
Astonishingly, in the UK, some schools complained that children 'were not emotionally mature enough to cope with Valentine's Day. Finally, the youthful fraternity in our country celebrates this day with the fragrance of love all around.
Contributed by:
Subhrajit Samanta
Read More @ Happy New Year 2020